This beautiful pitcher of "Eight Maids a' Milking" comes from Fitz and Floyd's Circa 2000 collection, "Twelve Days of Christmas"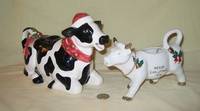 Here's a Christmas Creamer from 1978, and a Santa-cow teapot…
and here are various other Christmas teapots, mostly featuring Cows in the role of reindeer.
This one puzzles me…why would Santa be carrying a chicken?  And why might his fat steed have 6 teats?  Somebody had fun dreaming this one up.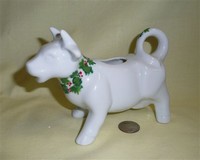 This started life as a plain white creamer, then the seller had fun adding the holly.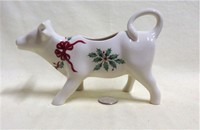 Here is a simple but sweet Christmas 2014 contribution from Lenox.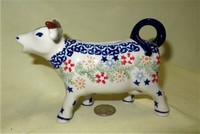 Here's a Polish "Manufaktura w Bolestawcu" contribution to the Christmas cow collection.  At least Christmas was how it was advertised and I guess the garland and little stars are sort of holiday-ish.  Starting around 2014 these Polish cows became quite readily available in a wide range of decorations, along with a lot of other Polish ceramics.